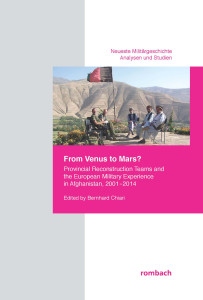 From Venus to Mars?
Provincial Reconstruction Teams and the European Military Experience in Afghanistan, 2001–2014
Neueste Militärgeschichte. Analysen und Studien Band 3
476 S., zahlr. Abb., geb. 16,5 x 24 cm
€ 48,00 (D), ISBN 978-3-7930-9771-6
Available in bookstores worldwide.
Erhältlich in Ihrer Buchhandlung.
Order now (via publisher) / Direktbestellung über den Verlag
Content (Inhaltsverzeichnis)
Editor's Introduction (Einleitung des Herausgebers)
The International Security Assistance Force (ISAF) in Afghanistan began its mission in 2001. Its original task was to assist the Afghan Security Forces in providing security in Kabul. However, in October 2003, the UN extended the ISAF area of responsibility beyond the borders of the capital. Civil-military Provincial Reconstruction Teams (PRTs) were deployed to a rapidly growing number of provinces.Designed as interdepartmental teams, the PRTs were to assist the Afghan government to establish functioning state structures in these provinces. Each PRT was manned with up to several hundred military and civilian personnel. In practice, however, the overwhelming majority of the personnel came from the military.
European countries like Germany, Italy, the Nordic troop contributors, Hungary, Lithuania, and Spain explicitly designed their contributions to the Afghan state-building project based on a »good« humanitarian philosophy. After 2006, however, a deteriorating security situation and escalating battles against a growing guerilla, subsumed under the term »Taliban movement«, brought the purely military aspects of the mission to the forefront of public awareness. PRT contributors experimented with varying national approaches for stabilization and reconstruction, and the escalating violence met deeply unmilitary and pacifist European perspectives and triggered a fundamental discussion on how to proceed in Afghanistan.
This book outlines how »the« ISAF mission functioned on different military levels, and the results of their efforts. It also demonstrates how the PRTs worked on the diplomatic-political level, and as parts of national bureaucracies and inter-agency collaboration. Finally the authors examine the ways in which the Afghan experience forever changed European armed forces.
Dr. Bernhard Chiari, born in 1965, works as Research Associate at Bundeswehr Centre of Military History and Social Sciences, Potsdam.
Available in bookstores worldwide. Erhältlich in Ihrer Buchhandlung.
Order now (via publisher) / Direktbestellung über den Verlag
Content (Inhaltsverzeichnis)
Editor's Introduction (Einleitung des Herausgebers)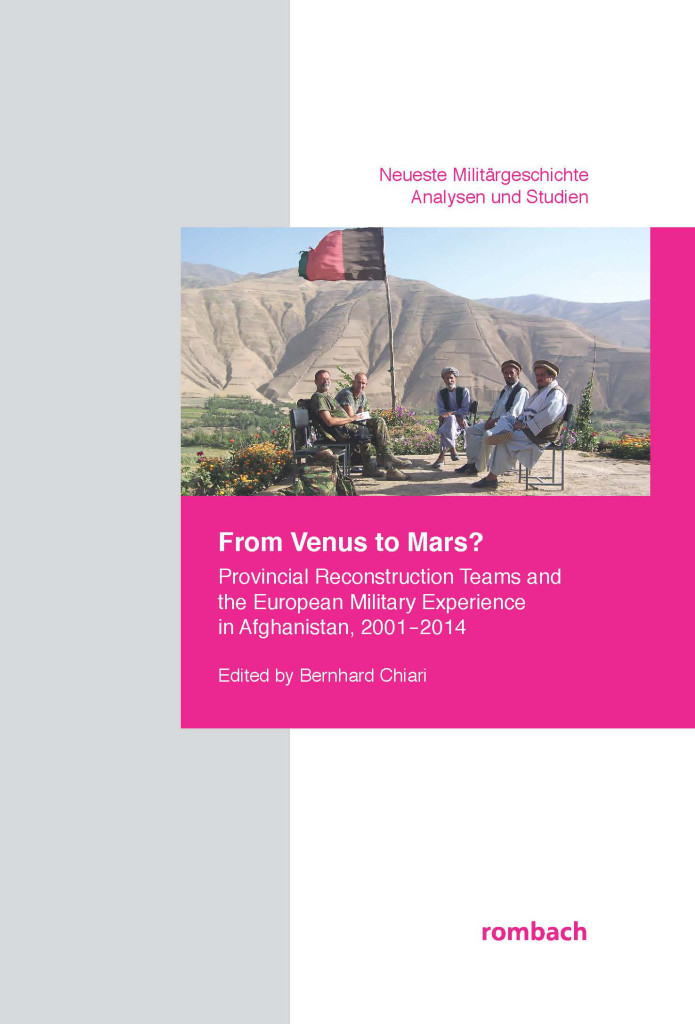 Related publications / Themenrelevante Publikationen der Reihe "Neueste Militärgeschichte"



Eric Sangar
Historical Experience. Burden or Bonus in Today's Wars?
The British Army and the Bundeswehr in Afghanistan
ISBN  978-3-7930-9748-8
Rombach (Freiburg) 2013
Benjamin Buchholz
Loya Jirga
Afghanischer Mythos, Ratsversammlung und Verfassungsorgan
ISBN  978-3-7930-9735-8
Rombach (Freiburg) 2013